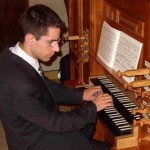 Jean-Charles GANDRILLE – organ
Born in 1982, he studied music at the Conservatory of Versailles in pia- no, then at the CNR in Paris where he won the 1st Prize of Organ (with Marie-Louise Langlais), Orchestration and Harmony unanimously in addi- tion to his general studies, awarded the F11 Music BA, with honors, and a first Accessit Concours Général of High Schools (music section).
He then continued his studies at the Paris Conservatory, where he won the Award Orchestration, Harmony, Counterpoint, Fugue and forms, analysis and improvisation at the organ (with Thierry Escaich and Philippe Lefebvre) while perfecting in interpretation of the organ repertoire, obtaining a gold medal unanimously in CRR of Saint-Maur in the class of Eric Lebrun, as well as being initiated in parallel with the violin. He also studied composition with Jean-Louis Florentz.
Interested in the freedom of improvisation, he won several awards in International Improvisation Competition in Organ between 18 and 20 years: 2d Grand Prize and Public Award at Chartres Competition in 2000 being the only finalist, the 1st Prize of Saarbrücken Competition in 2001 and the 1st Prize and Public Award Competition Yoann Pachelbel of Nuremberg in 2002.
In 2004 and 2005, he won the Prize "Anne-Marie Barat" of BACH Organ Competition at St.Pierre les Nemours, and was a finalist in the Organ Competition Jean-Louis Florentz-Academy of Fine Arts. In 2006 he won the special prize and the audience award at the First International Organ Competition Duruflé-Litaize.
Organist, he is co-titular of the Saint-Lubin church Rambouillet (Yvelines) and organist at the Church of Our Lady of Auvers-sur-Oise since 2007. He performs regularly in concert both in organ recital alone or with voices and organ, violin and organ or trumpet and organ.
As a composer, he has received various international awards for his works: 1st Prize Valentino Bucchi Coompetition at Rome in 2001, the 1st Prize and Public Prize at OFF Competition in Paris in 2002, and the unanimously 1st Prize at the Competition for organ Composition of Saint Bertrand de Comminges in 2006. His works are included in the flute repertoire of Pierre-Yves Artaud and the French Orchestre of Flutes, led by chef Pierre-Alain Biget. He has written for different formations: solo instrument (piano, organ, cello) chamber music, band, and orchestra.
His compositions are a continuation of a French tradition, color, lyricism and rhythm, starting from Debussy and up Florentz. His first album as a composer, "Poems of the dream" was recorded in September 2010 by Ctesibios editions.
His Violin Concerto was created in Doha, Qatar March 17, 2012, by the Qatar Philharmonic Orchestra, under the direction of Thomas Kalb, with violin Omar Chen. His Minimalist-Concerto for Piano, Organ and Orchestra was created in Doha, Qatar March 30, 2013, by the Philharmonic Orchestra of Qatar, under the direction of Alkis Baltas, with Rami Khalife on piano and the author in organ.
During the summer of 2014, he was composer in residence at Abbey de La Prée. In June 2015 he was guest composer of the 35th International Music Festival of Auvers-sur-Oise.
His record with his concertos released October 2, 2015.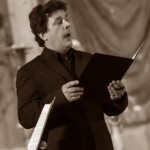 Nicolas LHOSTE – tenor
Born in Chartres, at the age of 8 he began singing in the choir of the Cathedral of Chartres and studying piano and clarinet at the Conservatory of Chartres. He continued his training in other choirs such as the Maîtrise of Hauts-de-Seine or the Opera Children's Choir of Paris and participating in major operas (La Bohème, Pagliacci, Othello, Turandot) and meeting figures of music (Jon Vickers, Luciano Pavarotti, Michel Plasson). He is formed for the song by Francis Bardot and Roger Thirot.
Past male voice he continues to sing in various formations (Choir of the French Army, Choir or French Opera), and creates in 1991 the Ensemble Fulbert (male choir specializing in early music).
Today he sings in sets variable workforce as "Christopher Simpson Consort" or "Musica Sacra" for the Baroque repertoire or "The Maurache" for the medieval repertoire. He is regularly hired as extra in the opera houses of France (Montpellier Opera, Opera de Strasbourg) and working with big names in music (F-R. Duchable, R. Alagna, T. Koopman, J-C. Casadessus, L. Foster, A. Altinoglu…).
Holder of the professional card cantor, in 2006 the Rector of the Cathedral of Chartres gave him the post of cantor and musical coordinator.
He regularly participates in official ceremonies and commemorative of the city of Chartres. Nicolas Lhoste was promoted Chevalier des Arts et Lettres in February 2015.