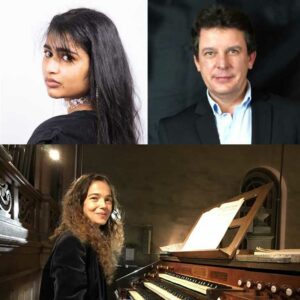 Born on March 5, 2001 in Chartres, Olivia Benjamin began her musical career by joining the children's choir of Chartres Cathedral at the age of six, while taking violin lessons at the Lèves music school. She later joined the CHAM program (Music classes with flexible schedules) at the Chartres conservatory, and the soprano section of the conservatory's Children's & Ladies'  choir.
During her school career from high school to college, she was able to perform in Europe (Germany, Italy, Bulgaria, England, Portugal) as a soloist (soprano).
From 2017 to 2019, she replaced the choirmaster of the Children's choir of   Chartres cathedral , as well as at the local Maintenon-Pierres choir "Les voix Soleil". She then joined the semi-professional ensemble "Sequentiae" while continuing her musicology studies at the University François-Rabelais in Tours.
Nicolas Lhoste began singing at the age of 8 with the "Maîtrise de la Cathédrale de Chartres", and went on to train with other choirs such as the "Maîtrise des Hauts de Seine" and the "Chœur d'enfants de l'Opéra National de Paris". He took part in numerous productions with children's voices (Paillasse, Werther, Turandot, Wozzeck, Tosca, Boris Godounov, La Bohème, etc.).
Now a male voice, he continues to sing in various ensembles, including the "Chœur de l'Armée Française" and the "Chœur Français d'Opéra", and is regularly engaged as an extra in France's opera houses (Opéra de Montpellier, Opéra de Strasbourg), working with great names in the profession (François-René Duchable, Roberto Alagna, Karine Deshayes, Ton Koopman, Alain Altinoglu, Michael Schønwandt or Jean-Claude Casadessus, etc.).
Particularly attracted to the early music and oratorio repertoires, he participates in concerts and recordings with a number of vocal and instrumental ensembles.
In 1994, he founded a male vocal ensemble specializing in early music. In 2006, the rector of Chartres Cathedral entrusted him with the post of cantor, and he became administrator of all concerts for the cathedral.
Today, Nicolas Lhoste performs in ensembles of varying sizes, ranging from medieval music with Ensemble La Maurache to contemporary music with Ensemble Sequenza93. He is also an additional chorister with the Radio France choir.
Since 2019, he has been director of the Maîtrise choir. Trained at the Institut Catholique de Paris (Certificat de Musique Liturgique), he holds a professional license as a liturgical singer.
Nicolas Lhoste was awarded the Chevalier des Arts et Lettres in 2015.
Organist at the church of Sainte-Geneviève-des-Grandes-Carrières in Paris XVIII, Marie Faucqueur studied with François-Henri Houbart, Michèle Leclerc and Eric Lebrun, with whom she obtained a Premier Prix de Perfectionnement with unanimous congratulations from the jury at the Conservatoire de Saint-Maur-des-Fossés (94). In November 2006, she won the Gaston Litaize Grand Prix at the Duruflé-Litaize International Organ Competition. She has made several recordings in Alsace, the latest of which, devoted to the organ works of Léon Boëllmann, received 4 Diapasons and the Léon d'Or from the Boëllman-Gigout association.
At the same time, Marie Faucqueur is pursuing a career as a conductor, having studied with Nicolas Brochot at the CRD in Evry. Regularly called upon for unifying projects, she is notably found at the head of Vents d'Automne, the Orchestre Départemental d'Harmonie du Val-de-Marne and the Orchestre d'Harmonie Français, as well as for creations such as Trombonille by Thibaud Rance for 120 Trombones, Orchestre d'Harmonie, Big Band and Children's Choir, or Tezcatlipoca, concertino for conductor and Orchestre d'Harmonie.
Marie Faucqueur holds State Diplomas in Organ and Orchestral Conducting, and teaches at the Conservatoire de Rungis (94), where she directs the Ensemble Harmonique de Rungis, ranked in the Excellence division.
A student of Jean-Paul Leroy, Daniel Benzakoun and Claude-Henry Joubert, this atypical poly-instrumentalist forms an original trio, "le Taramonium Project", with jazzmen Philippe Dourneau and Hidéhiko Kan.  Thanks to a varied instrumentarium (Harmonium, Taragot, Chalumeau, Euphonium, Melodica, Kaval, Sansula, etc.), this ensemble develops a unique musical universe through improvisation and personal compositions.