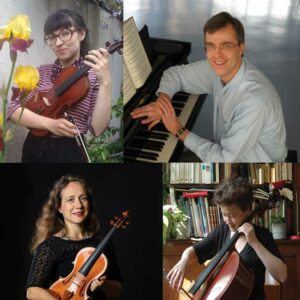 Ariane Kerouanton began playing the violin at the age of 4. She then joined the CHAM classes (Music classes with flexible schedules) at the Chartres departmental conservatory in Priscille Lachat-Sarrete's class, and took part in training courses with Alexis Galpérine.
She explored a wide range of disciplines, from jazz to theater, then discovered the Baroque repertoire, for which she developed a passion, taking up harpsichord in Irène Assayag's class.
She then joined the Regional Conservatory in Versailles, where she studied violin with Saskia Lethiec, and Baroque violin with Patrick Cohën-Akénine. She is currently studying to obtain her bachelor's degree.
Priscille Lachat-Sarrete studied at the Paris VI Conservatoire with Isabelle Lesage. She continued her violin studies with Catherine Courtois at the Regional Conservatory (CRR) in Saint-Maur-des-Fossés, where she won a gold medal, then at the CRR in Rueil-Malmaison, marked "excellent". She spent two years perfecting her technique with Géza Kapás, professor at the Franz Liszt Conservatory in Budapest, then with Pavel Vernikov at the Santa Cecilia Academy in Portogruaro (Italy).
At the same time, she obtained a certificate in music history from the Conservatoire National Supérieur de Musique de Paris, as well as a prize for musical culture in Brigitte François-Sappey's class. She is also defending a doctoral thesis in musicology at the Paris-Sorbonne University under the supervision of Jean-Pierre Bartoli.
Priscille Lachat-Sarrete performs chamber music in Paris and the Paris region. Her repertoire ranges from Baroque music – with solo violin recitals devoted to Bach, Locatelli, and Telemann – to contemporary music – with Takemitsu, Tanguy or Finzi, via the vast field of classical and romantic sonatas. She has also played with the Orchestre de Bretagne and the Orchestre des Pays de Loire.
A violin teacher at the Chartres departmental Conservatory, and the Francis Poulenc Conservatory in Paris 16, she is also a lecturer at Paris-Sorbonne University.
Priscille Lachat-Sarrete has recorded two CDs: "Le cercle Schumann" in 2006, and a solo violin recital at Chartres Cathedral in 2010, "Flammes baroques".
Emmanuelle Lemirre holds a Premier Prix in cello and chamber music from the Conservatoire National Supérieur de Musique de Paris, and continued her studies in the United States with Janos Starker, then in France with Lluis Claret.
As a member of the Albaran Quartet, she participates in numerous festivals and follows the training offered by Pro-Quartet (European Chamber Music Center). The quartet won a Special Prize for French and Contemporary Music at the Lantier International Competition.
She plays regularly with the Divertimento Symphony Orchestra and the Versailles Chamber Orchestra.
She also teaches at the Choisy-le-Roi and Villejuif music schools.
Didier Seutin began his musical studies at the Montreal Children's Choir in Quebec. Following this training, he continued his organ studies, obtaining the Premier Prix from the Conservatoire de Montréal. After receiving merit scholarships from the Canada Council for the Arts and the Ministère des Affaires culturelles du Québec, he moved to France to further his studies with André Isoir and with Odile Bailleux in early music. These studies were crowned by First Prizes from the Boulogne-Billancourt and Bourg-la-Reine conservatories.
He went on to study choral and orchestral conducting, later obtaining the Diplôme d'Etat de Direction d'ensembles vocaux. As a choral singing teacher at the Conservatoire du Centre de Paris, he set up a course to teach the basics of choral singing, as well as various workshops to deepen and enrich the initial experience.
Artistic director of the Paris Ladie's Choir from 1995 to 2009, he took part in the Paris premiere of Jacques Castérède's Cantique de la Création. As choral director of the Saint-Eustache Choral Society, he has also given a number of concerts featuring works such as Bach's Magnificat and St. Matthew Passion in F. Mendelssohn's version, as well as Mozart's Vesperae solennes de Confessore.
He produces a large number of arrangements and transcriptions for the ensembles he conducts.
In 2009, Kaija Saariaho entrusted him with the musical arrangement of one of her compositions: Horloge, tais-toi!
In 2012, he was appointed assistant organist at Notre-Dame church in Boulogne-Billancourt. He has given numerous concerts in Quebec, France, and the United States.