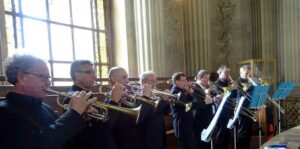 Founded in 1984, the Neustrie brass ensemble comprises eight instrumentalists divided into two sections: four trumpets and four trombones.
This ensemble is complemented by another instrument, the organ, with which the brass instruments naturally interact. It has been played by Danièle Jeansonnie since the ensemble was founded.
The Brass Soloists are often called upon to take part in outdoor events in surroundings such as the Parc National du Domaine de Saint-Cloud. For more than thirty years, the brass ensemble has been a constant source of musical activity, performing in numerous concerts at prestigious venues such as Notre-Dame Cathedral in Paris, the chapel of the Château de Versailles, Chartres Cathedral and numerous other buildings such as the beautiful Abbaye de Conques.
The ensemble's aim is to promote the rich repertoire of brass instruments spanning several centuries of music, their sonorities flourishing under the vaults of cathedrals.