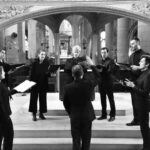 Founded in 2020 under the impetus of a group of Notre-Dame singers who had benefited from Sylvain Dieudonné's teaching, the ensemble Pérotin le Grand is dedicated above all to rediscovering and promoting the musical heritage associated with Notre-Dame Cathedral in Paris from the Middle Ages to the present day.
Under the direction of Sylvain Dieudonné, the ensemble's vocation is to spread out this heritage beyond the cathedral walls.
With a predilection for Gregorian chant and the repertoire of the École de Notre-Dame (12th-13th centuries), Pérotin le Grand also performs other forms of medieval music, both sacred and secular. The singers explore all forms of music that have maintained a link with Gregorian chant over time, additionnally promoting contemporary creation by commissioning young composers.
Variable in size, the ensemble performs a cappella or accompanied by specialized instruments.
It strives to enhance the venues in which it performs, integrating their spatial, historical and acoustic dimensions.
Since its creation, the ensemble has performed at various festivals, and in autumn 2021 recorded its first CD based on polyphony at Notre-Dame de Paris.