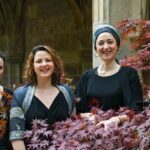 Oriscus is a young ensemble that brings together musicians and singers from diverse backgrounds: classical, early, traditional and sacred music… It is particularly committed to the discovery or rediscovery of the sacred vocal repertoire and instruments of the medieval period.
In some manuscripts, the shape of the neume called "oriscus" adopts the symbol of infinity; in others, it looks like a tiny bird in flight… Like its enigmatic, polymorphous design, the precise realization of this ornamental neume remains to be discovered.
The Latin etymology of "oriscus" evokes "ors", the mouth, and also "auris", meaning the ear. For it was indeed by word of mouth that this ancestral song was transmitted, lost and then found again, with the help of manuscripts, leaving our imaginations, guided by science, free to recreate it. It is this freedom that the ensemble emphasizes. The programs it offers naturally include improvisations and dialogue with works from other eras inspired by this music.
Following its formation at the Rocamadour Festival in August 2021, the ensemble released a recording, dedicated to Hildegard von Bingen and entitled "Stella Maris" under the Rocamadour label in 2022. Since then, the ensemble has taken part in the Festival de Musique Sacrée de Perpignan and the Visitation concerts in Le Mans. This year, after their performance at the Chartres Cathedral Festival, Oriscus' members will return to the Rocamadour Festival.