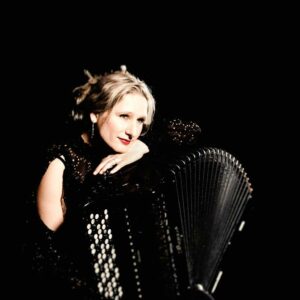 Marie-Andrée Joerger is a French concert artist and teacher. She is part of a new generation of musicians with a most singular career path.
An accordionist who graduated with the highest honors from the Musikhochschule in Freiburg, Germany (class of Teodoro Anzellotti) and Basel, Switzerland (specialized master's degree in contemporary music), Marie-Andrée Joerger performs around the world as a soloist, with orchestras or ensembles, at festivals such as the Zelt-Musik-Festival in Freiburg (Germany), Musique en scène in Lyon, ÖGZM in Vienna (Austria), Upol festival in Nova Gorica (Slovenia), Festival international de musique de Colmar, Festival Folia in Montreal (Canada), Festival Musica et Arsmondo in Strasbourg, Festival Manifeste in Paris, Les Musicales de Normandie, Akordeono Festival Vilnius (Lithuania), with the orchestras of Freiburg (Germany), Nancy, Strasbourg, or the Russian National Philharmonic Orchestra.
She performs in such prestigious venues as Berlin's Konzerthaus and Philharmonie, Zurich's Tonhalle, Lyon's Opéra, Frankfurt's Alte Oper, Bucharest's Théâtre Romana and Paris's Philharmonie, alongside such renowned soloists as Armand Angster, Marc Coppey, Françoise Kubler, Daishin Kashimoto and Pierre Strauch.
Active in contemporary creation, Marie-Andrée Joerger has premiered numerous works, including Thierry Escaich's first solo piece for accordion at the Berlin Philharmonic. The first accordion concerto by Annette Schlünz, as well as works by other composers such as Bernard Cavanna, Daniel D'Adamo, Beat Furer, Martin Matalon, Misato Mochizuki and Alberto Posadas.
April 2021 saw the release of her first solo album, Bach en Miroir on the Klarthe label, to widespread critical acclaim ("favorite album" Le Monde 2021, France Musique, Mediapart, Pizzicato, Classic News, France Inter, Rai3….).
Artistic director of the ensemble Les musiciens de Strasbourg (string quintet and accordion), Marie Andrée also performs as a duo with Vincent Dubois (organist, principal organist at Notre-Dame de Paris). She is a member of La Philharmonie de Poche, the contemporary ensemble Linea, and is a regular guest of Strasbourg's Accroche Note ensemble.
For the past thirteen years, she has organized the annual Académie internationale and Festival Agora in Adelboden, Switzerland, with Vincent Lhermet and Sylvain Tissot.
Marie-Andrée Joerger founded the accordion class at the Strasbourg Conservatory and has been teaching there since 2014, as well as at the Strasbourg Higher Music Academy – Haute école des arts du Rhin.
She is regularly invited to give master-classes at conservatories throughout Europe (Italy, Lithuania, Slovenia, Poland, Netherlands…), and also serves as a jury member at international competitions (Germany, Italy, Lithuania, Poland, Switzerland…).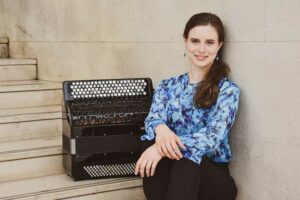 Teja Udovič Kovačič is a Slovenian accordionist and winner of several international accordion competitions, including the Castelfidardo International Accordion Prize, the Pula International Accordion Competition, the SVIREL International Music Competition and the "TEMSIG" Competition for Young Slovenian Musicians and Ballet Dancers.
She is an accordion Master's student and winner of the Prešeren Prize at the Academy of Music in Ljubljana (Slovenia), in Borut Zagoranski's class. She also studied with Marie-Andrée Joerger at the Académie supérieure de musique de Strasbourg.
As a soloist and chamber musician, Teja Udovič Kovačič performs regularly in national and international concert cycles such as Festival Ljubljana, Jeunesses musicales de Slovénie, Biennale internationale de musique contemporaine de Koper, Solo e da camera de l'Académie de musique de Ljubljana, Klasika u Portu (Croatia) and ADG Sommerkonzerte (Germany). In 2021, she took part in a program on Slovenian national television.
She premiered a piece by Corrado Rojac as soloist with the NOVA Filharmonija symphony orchestra and recorded a CD with them. She has also appeared as soloist with the RTV Slovenia Symphony Orchestra, the Strasbourg Conservatory String Ensemble, the Vladimir Lovec Symphony Orchestra, the Obala Chamber Orchestra, and the accordion orchestras of the Ljubljana Academy of Music, the Maribor Conservatory of Music and Accordiona.
She collaborated with the Vocal Academy Ljubljana and conductor Stojan Kuret on the opening concert of the European Grand Prix of Choral Singing in Tolosa (Spain), as well as a concert tour of Spain, Italy and Slovenia.