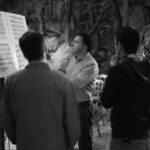 Since its creation in 2000 in the Alpes-Maritimes region, the Vox Cantoris ensemble has focused its work on researching and implementing repertoires from virtually unexplored musical collections. In partnership with numerous musicologists, it aims to anthropologically study sacred music from the 16th, 17th, and 18th centuries, rediscovering the now-forgotten expertise of the singers from those eras (direct reading from the original notation, singing from the lectern, ornamentation, collection of still-existing oral traditions, etc.).
The ensemble's discography includes around fifteen works, all praised by critics (5 diapasons, 2 Clefs de Resmusica, 4 stars from Monde de la Musique, 3 nominations for the ICMA, etc.).
In 2022, the Vox Cantoris ensemble was a finalist for the REMA Awards in the category of extra-European musical programs.
Vox Cantoris is supported by the DRAC Nouvelle-Aquitaine, the Nouvelle-Aquitaine Region, the Gironde Department, the French Institute, the Patrimonio Musical de la Nueva España association, as well as by the SPEDIDAM and ADAMI.