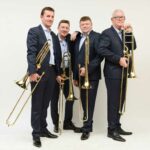 Originally from Pas de Calais in northern France, where they pursued their musical careers, these four musicians now teach at national conservatories.
The program offered by the "Qu4tre à 4" ensemble is deliberately eclectic, reflecting the repertoire for four trombones. From transcriptions to original pieces, the four trombonists allow you to you discover the richness of their instrument through through the artists' musical sensibilities.
As certified teachers, they enjoy incorporating an educational component into their activities, including school presentations, master classes, and the production of musical tales specifically created for their ensemble.
As worthy representatives of the French School of Trombone, they perpetuate the characteristic qualities of this school, through their performances and especially at major international festivals (Paris, Valencia, Lausanne, New York, Los Angeles, SliderAsia in Hong Kong).