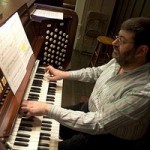 1961: January 9 – born in Southend-on-Sea, Essex.
1979-82: studies at Royal Academy of Music with Douglas Hawkridge, Christopher Bowers-Broadbent, Virginia Black, Paul Steinitz and Arthur Wills.
1982-84: organ studies with David Sanger.
1983: 1st Prize St. Albans International Organ Festival.
1987: July 25, plays first performance of Sorabji's 2 hour Organ Symphony 1 (1923/4) in London. This is really where his reputation as a player of "impossible" music stems from.
1988-2001: recording contract with Nimbus Records – about 50 CDs including complete J S Bach.
1990: lots of other 1st prizes – Odense, Dublin, Paisley, Calgary.
1999-2008: Senior Lecturer in Organ at the RNCM.
2005-present: organist to the University of Glasgow.
Concerts, broadcasts, lectures, teaching and masterclasses throughout Europe and in North America, Australia and Japan.
Other premieres (World, European or UK) include: Kaikhosru Sorabji (First Organ Symphony and the first movement of the Second Organ Symphony), Alistair Hinton (Pansophiæ for John Ogdon), Brian Ferneyhough (Sieben Sterne), Giles Swayne (Organ Concerto: Chinese Whispers) Michael Finnissy (Second Organ Symphony), Anthony Gilbert (Halifenu Vine Dance), Iain Matheson (Wondrous Machine, Through Thick and Thin, A Beginning, a Middle and an End and Background Music), Anthony Payne (Reflections in the Sea of Glass), Charles Wuorinen (Natural Fantasy), Milton Babbitt (Manifold Music), Chris Dench (compostela/finisterre) and Iannis Xenakis (Gmeeoorh).
He has been Organist to the University of Glasgow since September 2005. He accompanies the very excellent Chapel Choir and is Artistic Director of the annual International Organ Festival held in the Memorial Chapel.
The Sorabji Organ Works Project, a five year plan supported by The Glasgow University Trust, aims to have a complete critical edition of all three of the Sorabji organ symphonies in print by June 2013 as well as live performances of all three works. CD recordings of the complete Sorabji organ works will be released on Altarus Records, who will also produce a DVD documenting the entire project. Sorabji's massive and largely unplayed Second Organ Symphony (1929-32, about 6½ hours) is scheduled for performance in June 2009. The Third Organ Symphony (1949-54, also about 6½ hours, also unplayed), reputedly the most complex and technically demanding organ work ever composed, is currently undergoing conversion from the manuscript into a workable performing score and is scheduled to be surfacing in public performance in early summer 2013.
Kevin teaches in Glasgow for the St. Giles International Organ School.