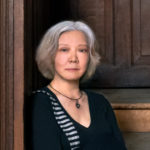 Kei Koito enjoys her career as an esteemed concert organist. She has performed throughout Europe, Russia, Japan, and the Americas. She is acclaimed for her expertise on Baroque and Renaissance music, especially that of J.S. Bach. Kei Koito has won numerous prestigious prizes as a recording artist and is often invited to judge international organ competitions. She is also a founder of the Festival Bach de Lausanne (Lausanne Bach Festival/Bachfest Lausanne), of which she has served as artistic director since its genesis in 1997. Kei Koito is currently an organ professor at the Haute Ecole de Musique/ Conservatoire de Lausanne (Lausanne University of Music/Musikhochschule Lausanne) in Switzerland.
Kei Koito was born in Kyoto, the ancient capital of Japan, into a family of artists. Her childhood was steeped in the arts and culture. She was attracted at an early age to the world of music, especially that of J.S. Bach. She began her musical training at the age of six, first with piano, followed by cello and voice. At the age of twelve, she discovered the organ, which soon became her favorite instrument.
As a student at Hiranuma College of Yokohama, Kei Koito played the cello for two years in the school orchestra. Also as a proficient pianist, she performed Beethoven's Third Piano Concerto with City Orchestra of Yokohama. After graduation from this High School, she decided to commit herself to organ studies. She was sixteen at that time.
Kei Koito graduated from National University of Fine Arts and Music of Tokyo/Tokyo Geijutsu Daigaku, where she achieved high distinctions in organ, harpsichord, music theory, chamber music, philosophy and musical esthetics. She also has a master's degree from the Conservatory of Geneva/Conservatoire de Genève/Musikhochschule, Genf, where she won several prestigious prizes including the First Prize of Organ Virtuosity with distinction, of Improvization and of Basso Continuo, Special Grand Prix of the Year, and Otto Barblan Prize for the best interpretation of J.S. Bach. All was awarded unanimously.
Kei Koito studied organ under Pierre Segond (general organ studies) in Geneva, and under Xavier Darasse (romantic, symphonic and contemporary repertoires) in Toulouse. She also studied early music performance and introduction to musicological research with Luigi Ferdinando Tagliavini in Fribourg, baroque music with Reinhard Goebel in Köln, and orchestration, music analysis and composition with Eric Gaudibert in Geneva.
Starting in 1985, Kei Koito focused in on the music of J.S. Bach and his important predecessors such as Buxtehude, Böhm, Bruhns, Frescobaldi, Kerll, Froberger, Muffat, Pachelbel, Fischer, de Grigny, Couperin, and their precursors. Consequently, the research of early music became one of Kei Koito's major interests. She not only adapts her style of playing based on principles of early performance practices, but incorporates her own understanding and observation of historical instruments, and her personal inspiration and intuition into her playing.
Prior to 1985, Kei Koito was a keen performer of romantic and symphonic music (Schumann, Brahms, Liszt, Reubke, Widor, Duruflé, etc…).
Between 1978 and 1996, she was ardently involved in avant-garde music including Ligeti, early Maxwell Davies, Berio, and other 20th-century composers from all over the world. She devoted considerable amounts of time to performing world premieres of newly composed pieces, some of which were dedicated to her.
Kei Koito's interpretation of music for every repertory is defined not only by the different aesthetics of the relevant repertoire, but also by the direct emotional impact which engenders contemporary audiences.
Kei Koito made her professional debut in a series of recitals at Victoria Hall in Geneva and Auditorium Maurice Ravel in Lyon.
As a highly acclaimed concert organist, Kei Koito is regularly invited to perform as a soloist at the most distinguished festivals and concert venues throughout Europe, Asia, and North and South America.
Her vast performance experience includes playing with the Baroque Orchestra Musica Antiqua Köln (dir. Reinhard Goebel) for J.S. Bach's Cantatas, Organ Sinfonias and Händel's Organ Concertos, and the Vocal Ensemble Gilles Binchois (dir. Dominique Vellard) for the Italian Renaissance/Baroque and the French classical/pre-classical repertoires. She has also performed Concertos by Haydn and Rheinberger with Orchestre de Chambre de Lausanne, and the Concerto for Organ by Francis Poulenc with Orchestre de la Suisse Romande.