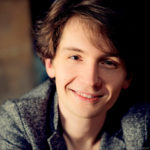 Karol Mossakowski is renowned for both his interpretation and improvisation skills. He won the first prize of the International Prague Spring Competition as well as the Grand Prix de Chartres, and leads an international career in both categories, making them constantly evolve together. Since September 2019, Karol is "organist in residence" at Radio France, gaining the public's enthusiasm thanks to his outstanding charisma.
On his agenda, recent and future highlights include concerts in venues such as Radio France, Philharmonie de Paris, Lyon's Auditorium, Warsaw Philharmonie, Mariinsky Theatre in Saint Petersburg, BOZAR Brussels, Palais Montcalm in Quebec, Bamberg's Konzerthalle, Wroclaw's National Forum of Music, as well as with orchestras as the Orchestre Philharmonique de Radio France, the Warsaw Philharmonic Orchestra, or the Brussels Philharmonic Orchestra under conductors like Myung-Whun Chung, Kent Nagano, Mikko Franck, and Stéphane Denève.
For Karol it is essential to support living music thanks to improvisation, granting it an important role in his recitals and pushing forward its development by accompanying silent films. In 2017 he released a DVD with his improvisations on Dreyer's Jeanne d'Arc for Gaumont-Pathé.
Karol Mossakowski is the winner of many other international awards, including the first prize of the international Competition Feliks Nowowiejski in Poznań in 2010, the Grand Prix and the Prix du Public of the Jean-Louis Florentz international Competition in Angers awarded by the Beaux-Arts Academy in Paris, as well as the Grand Prix André-Marchal in Biarritz in 2015. In 2016, he won the 'Prix international Boëllmann-Gigout' in Strasbourg. That same year, the Polish National Music and Dance Institute awarded him the Corypheus Prize of Polish Music.
In 2014-15 Karol was appointed Young Artist in Residence at St. Louis King of France Cathedral in New Orleans (USA), performing many recitals and teaching interpretation and improvisation.
Karol Mossakowski took his first piano and organ lessons at the age of 3 with his father. After musical studies in Poland with Elżbieta Karolak and Jarosław Tarnawski, he was admitted to the Paris Conservatory, studying organ, improvisation and composition in the classes of Olivier Latry, Michel Bouvard, Thierry Escaich, Philippe Lefebvre and László Fassang.
Today, Karol is titular organist of Lille Cathedral, and professor for improvisation at 'Musikene', the Higher School of Music in San Sebastián (Spain).