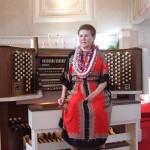 Joyce Jones has devoted her professional life to making friends for the organ, through Community Concerts, countless organ dedications, children's concerts, and "Access to Music" programs. She has been widely acclaimed since making her debut with the Dallas Symphony Orchestra as the only organist ever to win the prestigious G. B. Dealey award. She has played in 47 states and 12 foreign countries.
Joyce Jones is the Joyce Oliver Bowden Professor of Organ and Organist in Residence at Baylor University in Texas, which also named her Outstanding Creative Artist. She earned the Doctor of Musical Arts degree from the University of Texas and a Master of Sacred Music degree in composition from Southwestern Baptist Theological Seminary, which presented her with its Distinguished Service Award in 1989. She has recorded for Word, Rosenhaus, and Motette Records. She is a Fellow of the American Guild of Organists and the composer of numerous published works, including the organ method "King of Instruments".
In 1997, she received the National Federation of Music Clubs' highest award, a National Citation, "in recognition and sincere appreciation of her unselfish devotion and dedicated service to music as a concert organist, inspiring teacher and composer." In 1998, she received the highest award given by Mu Phi Epsilon, professional music fraternity, as only the 8th recipient of that prestigious award in 96 years. In 2001 she was inducted into the Walter Gilewicz Hall of Fame at The University of Mary Hardin-Baylor. In 2003, she received the Texas Music Teachers Association award as the outstanding collegiate teacher of the year. She was also the subject of a feature article in the May 2003 issue of The American Organist magazine.
Joyce Jones' numerous engagements include such venues as the Riverside Church, the Mormon Tabernacle, Notre-Dame Cathedral, Chartres Cathedral, and the Meyerson Symphony Center. She was the first woman to perform on the organ at the Crystal Cathedral, the first organist to play for the Grand Teton Music Festival, and the only woman organist chosen to play with the San Francisco Symphony Orchestra at the inauguration of the Ruffatti organ in Davies Symphony Hall.
She has been featured soloist at many regional and national conventions of the American Guild of Organists, including the centennial convention in New York City in 1996, for which The American Organist magazine praised her playing as "vibrant and elegant," with her pedal virtuosity acclaimed as "stunning". Of her Worcester, Massachusetts concert in June, 1999, The American Organist reported that "Her amazing technique and depth of understanding through memorization brought the crowd screaming to its feet".