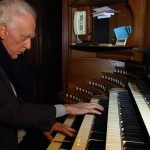 Jean Guillou expresses his creativity through multiple facets of his art.
As a performer, he has considerably pushed back the technical limits of the instrumental performance of the organ. Also a pianist, he revived the piano Sonata of Julius Reubke, a pupil of Liszt who died at the age of 24 leaving two masterpieces: this piano Sonata and the organ Sonata that Jean Guillou was alone to have recorded and to have played together in concert. He also inaugurated the Borgato Pedal Piano in 2002 in Vicenza's Teatro Olimpico and at the Royal Opera of Versailles,.
As a composer, since his early years he has elaborated and developed a singular musical world, of a strongly individual dramatic eloquence. He thus discovered a new nature with the sound pallete of the organ, and sought to make this come alive in confrontation with the piano (Colloques n°2, 4, 5, 7) or other instruments (violin, violoncello, flute, clarinet, percussions, marimba, voice), without forgetting 7 Concertos for Organ and Orchestra. His universe can also been discovered through 3 Symphonies, 2 piano Concertos, vocal music, chamber music (in particular the Trio for 3 violoncellos, the Quartet for oboe and cords), works for piano. His works are published by Schott Musik. .
As an improviser, he gives fresh impetus to an authentically creative improvisation, liberated from the set formats of the past.
Originator of a new organologic thought, he applied his innovative ideas through the organ of Alpe d' Huez, of the "Chant d'Oiseau" in Brussels, of the Academy of Naples, Tonhalle of Zurich, and the Concert hall of Ténériffe. His project for Ténériffe of an organ divided into 8 cases and 12 sound bodies confers a dramaturgic dimension to the instrument, playable on a console of 4 keyboards, but also, with 8 other keyboards, by 9 organists. This idea was at the origin of his work "the Revolt of the Organ", played in the first hearing on May 12, 2007 in Landsberg then on June 19 in Saint Eustache. The ultimate development of his design leads to the "Organ with Variable Structure", of which one will find description in his book going through all the history of the instrument and presenting his ideas on complex nature of the organ to which he wants to insufflate a greater poetic richness: "Organ, Memory and Future" (Buchet-Chastel) which is with its third edition in France, its second edition in Germany, and with its first edition in Italy.
As a writer, Jean Guillou has written many texts on music and also literary interpretations and poems. Several of his compositions exploit his own texts: "Alice in Organ Land" for organ and narrator, "Aube" for 12 voices and organ, the "Poem of the Hand" for soprano and organ, "Echo" for choir and orchestra.
As a teacher, he taught from 1970 to 2005 in Meisterkursus of Zurich, alongside Geza Anda, Nathan Milstein, Gregor Piatigorsky, Vladimir Spivakov, thus inspiring more than 300 young artists from different countries.
Philips reissued in 9 CDs his recordings made in the years 1960 to 1970, but also published 7 CDs of his compositions for organ, other instruments and voice, the complete works of Bach, a CD on the Double Borgato Piano, and one Mozart CD. Other labels (Dorian, Festivo, Pierre Vérany, Carrara) complete his discography.
2007 saw the creation of his two latest works: "The Revolt of the Organs" written for 9 organ and percussions, and the 7th Concerto premiered with the orchestra "di Padova E del Veneto" conducted by Giuseppe Marotta, in Padoue and Milan. 3 CDs, which will be released by Philips in June 2008, will present recordings made in 2008 on the organ of the Naples Academy, featuring Schumann, Liszt, and improvisations.