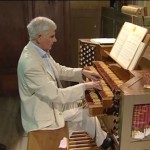 Georges Guillard is the appointed organist at Notre-Dame-des-Blancs-Manteaux in Paris. At the Conservatoire National de Région de Paris he is responsible for ancient music ; holding the title of Doctor of Musicology he is attached to the Sorbonne as a high level examiner in music and musicology.
Radio-France and the main festivals in Paris are regularly welcoming him for recitals and he has also given many concerts all over France and in Europe. He has also produced organ music series at Radio-France. In 2002, he has launched at Notre-Dame-des-Blancs-Manteaux a concert cycle of the complete J.S. Bach Cantatas ; this performance is supposed to take more than 20 years !
Due to his long practice on the magnificent Kern organ of the Blancs-Manteaux Church and his intensive contacts with organ builders and specialised organists, he is particularly interested in the European classical and baroque repertoire.
He has materialised his investigations in numerous publications about music, musicology, musicography and pedagogics.
Amongst his recordings one can find several worldwide premieres : especially the organ works of G..A. Homilius, the first version (the so-called Weimar Version) of the Leipzig Chorals composed by J.S. Bach, as well as the complete vocal and instrumental works by Jehan Alain ( on 3 CDs).
His discs have been medalled twice, in 1992 and 1996, when the Académie du Disque Lyrique awarded him the Orphée d'Or.
His interest in contemporary music made him also push forward certain important composers in France.