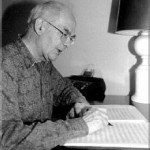 Born December 30, 1934 in Paris, Jean-Claude Henry made the most of his musical studies at the National Conservatory of Music in Paris with Henri Challan for harmony, Noël Gallon for counterpoint and fugue , Rolande Falcinelli for organ and improvisation, Olivier Messiaen for analysis and Tony Aubin for composition. After winning several first Price : counterpoint in 1955, harmony, fugue, organ and improvisation the following year, philosophy of music in 1959, he won first Second Grand Prix de Rome in 1960 with a lyric cantata Spring, Milosz wrote a text. The following year he married Fanou Cotron, pianist and composer, the second Grand Prix de Rome in 1959, whom he has two children.
After a long military service he completed as deputy head of music, he decided not to stand in the Contest of Rome and became the deputy of Marcel Bitsch newly appointed professor of counterpoint and fugue at the Paris Conservatory. In October 1963 he was appointed professor of music theory at the conservatory and counterpoint, the art of movement, in October 1967. It will have a chance until his departure in September 2000 to teach the write a large number of outstanding musicians who through their donations, culture and the variety of their strong personalities will be for him a source of enrichment and musical incessant intellectual. The analyzes, more numerous each year, he created for his class, an ongoing exchange between teacher and taught, stimulate it in his teaching career, and support its constant attention to educational renewal.
Alongside his teaching activities, Jean-Claude Henry gives a number of organ concerts and wrote several pages to this instrument. Thus, at the request of Gaston Litaize for the magazine The liturgical organist, he composed in 1961 Four short pieces without pedal obliged: For a funeral service, for a time of penance, for a time of joy for all time; that of Norbert Dufourcq for the Organ and Liturgy review: Prelude to the Introit, Offertory, Elevation, Communion and Postlude for the Office of Sunday Sexagesima to be published successively in five collections between 1961 and 1967; and in 1966 commissioned by the Paris Conservatoire a "piece contest" for organ competition 1967: Chacone (Ed Leduc.). After a Movement saxhorn and piano (. 1972 ed Leduc), he wrote a new work for organ: Thallus (1973, ed Leduc.). The latter, a write most advanced aesthetic is both strongly rejected by some organists and valiantly defended by others, first and foremost we must mention Loïc Mallié who do not fear to include the composition in several program his concerts.
As an organist, winner of the International Organ Competition in Munich in 1959, Jean-Claude Henry since 1957 holder of St-Nicolas-St-Marc de Ville d'Avray, near Versailles, where he wantonly playing on an organ 20 stops over two manuals and pedal, built by Abbey and realigned by Peru shortly before his arrival. In 1970 he also succeeded Raffi Ourgandjian the organ church Mutin Saint-Pierre in Neuilly-sur-Seine and could thus be fully expressed. This important organ of 52 stops over 3 manuals and pedal, built a church which is the largest parish of Neuilly, was then used for many offices. In addition, exceptional enough to be out here, the clergy has always surrounded himself with valuable musicians: Henri Letocart, René Meugé, Xavier Darasse, Raffi Ourgandjian, Jean-Claude Henry, Loïc Mallié. From 1975, following the untimely death of his wife Fanou Cotron taken by family responsibilities (her two children, then aged 10 and 12) he asked Loic Mallié, organist, composer and talented improviser of become co-holder of the organ. However, it continued to give organ concerts and after a quiet period of some years, took up the pen. Among his works include those recently written : Benthos, for organ (Lemoine), Toccata for organ (Lemoine) Internal Routes for cello and piano (Billaudot), Prelude for Organ (Billaudot, Panoramas collection), Stances five brass (unpublished ) Iorti for violin, cello and piano (Notissimo / Leduc) for an order from the Paris Conservatoire for the bicentennial, cold reflection for oboe and piano (unpublished), Etiouse for solo percussion (unpublished), Breaths for violin, viola, cello , flute, clarinet / bass clarinet and piano (Ensemble command "Modern Times" Notissimo / Leduc), piano Traces (Lemoine, Ibanez collection), reed, bow, hammer, "a tale trio" for tenor / soprano, violin and piano (Notissimo / Leduc), Three Preludes… and a small organ canzone (The Sylph flute, Winter, Marimborg, Canzone), musical publications Jobert / Rubin, obscure Fountains for violin and piano (Musicare, Conservatory of Nimes not distributed) Six short studies for organ with or without pedal : 1) Seconds : 2) Sixths (both without pedals), 3) Third and quads, 4) Scherzetto, 5) mixed Chants 6) Perpetuum mobile (IMD Editions, Arpèges diffusion)…
Member of the Jury Grand Prix de Chartres 1982.
In 1996, Jean-Claude Henry remarried one of his former pupils, Rikako Watanabe, composer. The latter, after obtaining a Master of Arts in composition at the University of Kunitachi Music in Tokyo, followed parallel teaching senior conservatories in Lyon and Paris and obtained the "Higher Diploma in writing discipline" in Conservatory of Lyon and various first price than Paris. She is the author of several works for percussion ensemble, organ and various instrumental groups, and in April 2002 was appointed Professor of competition musical training at the Conservatoire National Supérieur de Musique de Paris.
Musician end ingenious teacher and talented organist, Jean-Claude Henry is also a warm man listening to others. The circumstances of life, and his modesty, may have prevented him from conquering fame, even if his work is of a high standard of charm and characteristic of this generation of musicians in the late twentieth century.
Denis Havard Mountain
www.musimem.com
(With his permission)