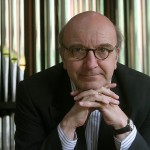 Jacques van Oortmerssen (b1950) has been a prominent figure in the organ world for many years. He is internationally renowned for his versatility and particularly for his performances of the music of J. S. Bach. Van Oortmerssen studied first in Rotterdam where he completed his soloist diplomas for both organ, as a student of André Verwoerd, and for piano as a student of Elly Salomé. Thereafter he undertook postgraduate study with Marie-Claire Alain in Paris. He was awarded the Prix d'Excellence in 1976. He was appointed Professor of Organ at the Amsterdam Conservatory in 1979, at an exceptionally young age, and, in 1982, succeeded Gustav Leonhardt as Organiste-Titulaire of the Waalse Kerk in Amsterdam.
Jacques van Oortmerssen enjoys an international reputation as both soloist and pedagogue, in which context he is regularly invited to teach at universities and conservatories throughout the world.
A former visiting Professor of Organ at the universities of Gothenburg and Helsinki, as well as at the Conservatory of Lyon, van Oortmerssen was nominated Guest Professor of Organ (Betts Fellow) at the University of Oxford during the academic year 1993/94. In 2012 he will receive an Honorary Doctorate from the Sibelius Academy in Helsinki. He regularly performs throughout Europe, North and South America, Africa, Japan, and South Korea, and is frequently invited to play at prestigious international festivals such as the BBC Proms, the City of London Festival, and the Prague Spring Festival. As a recording artist, van Oortmerssen has featured on more than 50 CD releases for prominent international labels, as well as broadcasting on both radio and television. He is presently under contract to Challenge Classics, for whom he is recording the complete organ works of J. S. Bach; a project which has generated significant international interest and recognition.