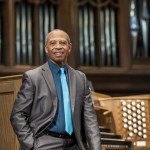 Herndon Spillman was born in Huntsville, Alabama, where he began his early musical training.
After his study at Dillard University, Boston University, and Indiana University, he came to Paris to continue his formation under the direction of Maurice Duruflé, Andre Marchal and Marie-Claire Alain.
For his doctoral thesis, "The Organ Works of Maurice Duruflé," he conducted extensive research under the guidance of the composer.
By his appearances at Notre-Dame cathedral, l'Office de Radiodiffusion- Télévision, and the Federation Francophone des Amis de l'Orgue, this young American organist has gained a reputation as an organist of exceptional technique and musicality and a specialist in the interpretation of the organ music of Maurice Duruflé.
In 1974 he was awarded the Grand Prix du Disque from the Académie du Disque Français for the first complete recording of the complete organ works of Maurice Duruflé. He was awarded the Doctorate of Music in Organ from Indiana University in 1975 and currently coordinates the organ program in the School of Music at Louisiana State University in Baton Rouge, Louisiana. He is managed in North America by Phillip Truckenbrod Concert Artists.
http://www.concertartists.com/HS.html