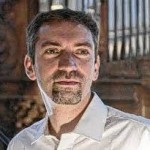 Born in Nantes in 1968.
After being one of the last disciples of Gaston Litaize the CNR of St-Maur-des-Fossés, Henri-Franck Beaupérin gets at the Paris Conservatoire first prize Organ (class of Michel Chapuis and Olivier Latry) and Improvisation (class Loïc Mallié).
Winner of the Tokyo International Competition (1992), Improvisation Prize at Franz Liszt Competition in Budapest (1993), he received the 1995 Grand Prix Interpretation of the First International Organ Competition of the City of Paris, in unanimity of the jury.
In 2001 he was awarded the Fondation de France (Prize Charles Oulmont).
Titular organist of the Cathedral of Angers, he developed, in collaboration with the festival "The Spring of Organs", an important musical activity to the development and enrichment of organ heritage in Anjou.
He is artistic director of the Regional Academy of Organ Improvisation in the Pays de la Loire.
Performer, teacher and improviser, he is the guest of many international festivals in Europe and Asia.
He has made several recordings that received critical acclaim, including, for the first time, the work's complete organ works of Raphael Fumet, he realized the edition (Éditions Delatour).
He is also the author of several transcriptions for organ, of works for piano or orchestral of Brahms, Tchaikovsky, Ravel, Franck and Rachmaninoff.