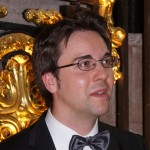 The German organist Christian Barthen (* 1984 in Saarbrücken) received numerous prizes and awards at international competitions, including the "Johann Sebastian Bach Competition" in Wiesbaden (D), at the International Organ Competition of St Maurice d'Agaune (CH) and the second prize at the in the international organ competition "Grand Prix de Chartres" .
After a subsequent concert career, with invitations to festivals and concert serres of cathedrals and concert halls throughout Europe, Christian Barthen is meanwhile among the most renowned concert organisas of the younger generation. Since 2012, he is recording artist and co-producer of the "Organ Encyclopedia" of the CD label Naxos.
Christian Barthen studied at the Academy of Music / Saar, organ, piano and harpsichord, and church music A and music education. His principal teachers were in Saarbrücken Andreas Rothkopf, Wolfgang Rubsam, Jean and Robert Micault Leonardy. Private studies led him to 2011-2012 Philippe Lefebvre at the Cathedral of Notre-Dame in Paris. Since 2012, he studied in the soloist class of Prof. Dr. Ludger Lohmann at the Musikhochschule Stuttgart.