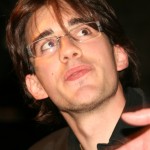 Composer and organist, Grégoire Rolland began learning music at a young age. First studying the piano, he but soon became fascinated with the organ and joined the organ class at the Conservatoire Jean-Philippe Rameau, Paris. There, he earned diplomas in music theory, then organ. He further continued organ practice with Éric Lebrun and studied orchestration with Olivier Kaspar at the Conservatoire of St-Maur-des-Fossés. From 2001 to 2006, he also was a chorister in the Maîtrise de Notre-Dame de Paris. The Maîtrise is known as the finest French choir, and young boys receive there the highest level of voice and music training while performing throughout Europe. Upon graduating in music and musicology at Sorbonne University, Grégoire entered the competitive organ class of Olivier Latry and Michel Bouvard and music theory and analysis class at the Conservatoire National Supérieur de Paris (CNSMDP). Grégoire Rolland has since pursued both careers of performer and composer.
Grégoire likes to think of music in terms of discourse, and he takes a particular interest in the formal relationship between rhetoric and music. He is equally curious of cuban and asian traditional music, which he explores in his own music writing. Grégoire Rolland has composed for both solo instruments and orchestra. In 2008, he was awarded the Robert et Marcelle de Lacour Foundation special prize for his organ work 'Mes Rêves n'ont qu'un unique nom…' ("My dreams have but one name"). In 2011, he was featured in the second season of "Appassionato" Young Composers, a special program of the Orchestra of Caen.
In April 2012, he has played the organ part in the world premiere of his piece 'Caligaverunt oculi mei' for male voices, organ and percussion at Notre-Dame de Paris, commission by Musique Sacrée à Notre-Dame de Paris.