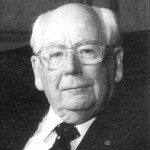 Organist and choir director born in England, Graham Steed studied music with his uncle JE Hutchinson and is also a graduate of the Royal College of Organists in London.
He began his career as an organist at the age of 16 at St. James Church, and in his early twenties, he began directing various choirs and to record the concerts for the British Broadcasting Corporation.
In 1948, he moved to Canada and became organist and choirmaster in Saskatoon. He later held the same functions in Victoria (British Columbia) at Christ Church Cathedral and also heads the Victoria Choral Society. In 1959 he moved to Ontario and founded a choir of 36 singers, Graham Steed Chorale.
From the 1960s, Graham Steed devoted himself mainly to his organist of activities and occurs in several countries including France, Germany, Belgium, New Zealand and Australia.