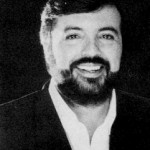 Born in Argentina, Gerardo Gorosito has studied piano and organ at the Municipal Conservatory of Music "Manuel de Falla" (Buenos Aires), where he obtained a First Prize and Gold Medal.
French Government Scholarship to study with Edward Souberbielle at the Catholic Institute of Paris and Michel Chapuis at the Schola Cantorum, he was already well known in France, especially in his series of concerts in Saint-Germain l'Auxerrois and occurring in Notre-Dame de Paris.
He also had great success on tour in Germany, Uruguay (1 "International Organ Festival in Montevideo), and Spain (VII International Organ Week in Madrid).
In Argentina, he was the founder and first president of the Argentine Association of Organists.
Since 1980, Gerardo Gorosito lived in Brazil, where he was Professor of Organ Superior Courts of the School of Music and Fine Arts of Paraná, and organist of the Cathedral of Curitiba.
He received the First Prize at the first National Organ Competition in Brazil, organized by the National School of the University of Rio de Janeiro Music.
His musical activities also extend to the direction of choirs and orchestras including the Camerata Antiqua de Curitiba, the Symphony Orchestra of Ponta Grossa, the Chamber of Curitiba Orchestra and the Chamber Orchestra of the Music School " Villa Lobos "Joinville.
Gerardo Gorosito led the choir Curitiba, official choir of the city, which he was the founder, and with whom he has made tours in Brazil, Argentina and Chile.
He's now died.