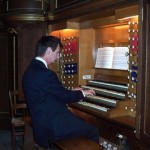 Geoffrey Marshall was born in Solihull, Warwickshire (UK), where he attended high school, and organ studies with Roy Massey (Hereford Cathedral) and Conrad Eden (Durham Cathedral) and studied piano Margaret Wharam. He continued in-depth music studies (harmony, fugue, counterpoint of the sixteenth and eighteenth centuries, composition, orchestration, acoustics, music history, and a thesis on orchestral works by Franz Liszt) to Durham University, where he was received with honors. Two years ago he received a graduate of the Royal College of Organist in London.
In addition, he is the college organist and accompanist of the university choir, ensuring the harpsichord part in important works such as the Mass in B minor. After three positions as organist and choirmaster in Anglican churches, and as a music teacher (assistant manager) at Strathallan School in Scotland, Geoffrey Marshall moved to Paris where he was organist at the Church of the British Embassy (the current Anglican Church St. Michael).
He came to live in Rennes in 1972, while continuing his organ studies with George Robert. He often collaborated with French musicians to play chamber music in the Our Lady of the Rosary Festival in Guernsey, including : the chamber orchestra Bernard Thomas, Martine Geliot, Maxence Larrieu, Bernard Soustrot Yvan Chiffoleau, Jacques Vandeville…
It is fifteen years organist (holiday) of the Guernsey French Church (Our Lady of the Rosary) and appeared on radio and regional French television. In addition to the organ, he is interested very strongly to chamber music and played in concert as a pianist. He received Bachelor-of Letters in 1976 after studying at the Sorbonne and the University of Haute-Bretagne.
Currently, Geoffrey Marshall's accompanist at the Conservatoire (Castle Oaks) in Saint-Malo, and lecturer at the Faculty of Music of the University of Haute-Bretagne. He is Vice President of the Association for Youth training Liturgical Organists.
Organist co-titular organist of Rennes Cathedral since November 1978, he was appointed holder of this very podium, together with the Canon Legrand in December 1980.