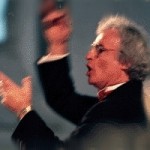 François Bocquelet was born in Calais in 1949. After his studies at Calais (first prize in music theory, sight reading and piano, organ award of excellence, music room and bassoon), he entered the Conservatoire à Rayonnement Regional of Lille. He obtained a prize for piano, an organ and improvisation Excellence Award and a medal in harmony and counterpoint.
Two awards organ and counterpoint sanctioned his studies at the Conservatoire National Supérieur de Musique de Paris.
After obtaining the Certificate in teaching, he teaches organ and piano at the Academy at the Conservatoire à Rayonnement Départemental from Calais.
Since 1989, after having held for 12 years of the Great Organ of the Cathedral of Arras, he became the owner of the Great Organs Cavaillé-Coll of Saint-Omer Cathedral, newly restored.
François Bocquelet played recitals in major galleries of France (Notre-Dame de Paris, Chartres Cathedral) and abroad : Germany, England, Quebec.
Since 1985, he led the Chorale Saint-Joseph-de-Calais, with which he has organized many trips (Quebec, Austria, Alsace) and recorded several CDs, including Christmas carols.