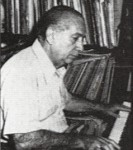 Evencio Castellanos Yumar (May 3, 1915 – March 16, 1984), was a Venezuelan pianist and classical musician.
Being born at the town of Cúa, Miranda state, son of Pablo Castellanos and Matilde Yumar, from young age starts his musical formation along with his father who was organist and kapellmeister at the Nuestra Señora del Rosario church.
In 1938 entered at the Superior School of Music of Caracas (today called "José Angel Lamas"), learning from teachers Pardo Soublette, Carlos Áñez, Juan Bautista Plaza and Vicente Emilio Sojo.
On July 4, 1944 graduated as teacher-composer, and was part of the first generation of Vicente Emilio Sojo´s students, whose compositions were oriented by the nationalistic tendency. In 1946 was designated director of the University Choir of the Central University of Venezuela, for which he composed the university anthem, based on the words of Luis Pastori and Tomás Alfaro Calatrava.
Between August 1947 and September 1949, received a scholarship to New York City, studying piano with Carlos Buhler. On his return to Venezuela, becames member of the Caracas Cathedral choir, executing the organ, and being Chapel Teacher. Also, was a member of the Orfeón Lamas and instrumentalist of the Venezuela Symphony Orchestra.
In parallel to his life as a musician, served as piano instructor (1938-1947), piano professor (1945-1947), key professor (1946-1972), professor of musical composition (1957-1964) and director of the Superior school of Music (1965-1972). Vice-president of the Board of directors of the Venezuela Symphony Orchestra (1950-1951 and 1959), member of the Consultative Superior Council of the orchestra, president of the Venezuela Association de Authors and Composers (1958-1959), director-founder of the Collegium Musicum de Caracas, director of the Student Orchestra of the Central University of Venezuela (1969) and director of the Experimental Orchestra of the Venezuela Symphony Orchestra, to which directed the inaugural concert on May 15, 1970.
From 1979 to 1984, served as adviser of the Latin American Institute of Musical Studies. Throughout his musical career, Castellanos obtained several awards and recognitions, such as the Teresa Carreño Prize, by the Caracas Athenaeum for his Tribute to Teresa Carreño in 1952, the National Prize of Music for his symphonic poem Santa Cruz de Pacairigua in 1954, and the National Prize of Music for the oratorio Tirano Aguirre in 1962.
Castellanos died in Caracas on March 16, 1984 at the age of 68.