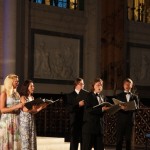 Founded by Alexander Minchenko in 2004, the ensemble of soloists "Cyrillique" is a sextet consisting of opera singers, all from the National Conservatory of St. Petersburg, with extensive experience recitals in concert halls and on stages opera.
The group consisting of soloists, it allows him to interpret soprano solos, mezzo-soprano, tenor and bass, accompanied by singing of the group.
In 2008 the whole "Cyrillique" won the International Competition "The world singing" St Petersburg, obtaining the 1st prize and the prize for the best performance of sacred works.
Aiming to bring across Europe Russian musical culture, the whole "Cyrillique" sings a capella, continuing the Russian traditions of group singing.
It includes in its most beautiful works of Russian sacred music repertoire, works by contemporary composers of St. Petersburg, as well as original arrangements of tunes and popular songs that are part of Russian folk heritage.
Since its creation "Cyrillique" thus occurs regularly in France.