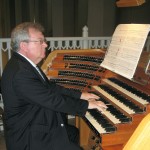 Edgar Krapp was born in Bamberg and received his first organ lessons at the age of ten as a member of the Regensburger Domspatzen.
Later he studied with Franz Lehrndorfer at the Munich Musikhochschule and with Marie-Claire Alain in Paris. After winning first prize at the international music competition of the ARD in 1971, he began his career as concert organist and educationalist.
Since then he has performed in many European countries, in America and in Japan. His broad repertoire, including works ranging from the early organ literature to the modern age, is documented on many records, radio and television recordings which for the most part were made with historical instruments.
Edgar Krapp has rendered particularly outstanding service to the organ works of Johann Sebastian Bach, which he has previously performed as a cycle in Frankfurt, Nuremberg, at the Rheingau Music Festival and in Munich (the latter with a live broadcast).
The main emphasis of his work lies in concert performances with orchestra conducted by such distinguished musicians as Rafael Kubelik, Georges Prêtre, Colin Davis, Lorin Maazel, Vladimir Fedoseyev, Horst Stein and Christoph Eschenbach, with whom, among others, he has performed the organ concertos by Handel, the organ symphonies by Camille Saint-Saëns and Alexandre Guilmant, the organ concertos by Francis Poulenc, Paul Hindemith and Harald Genzmer, as well as premières including the works for organ and orchestra by Günter Bialas, Hans Jürgen von Bose and Rafael Kubelik. He has collaborated with the Chicago Symphony Orchestra, the Bavarian Radio Symphony Orchestra, the Munich Philharmonic, the Bamberg Symphonica, the German Symphony Orchestra Berlin, the Frankfurt Radio Symphony Orchestra, the ORF Orchestra Vienna and the Vienna Symphonica, among others.
From 1974 to 1993, Edgar Krapp taught at the Frankfurt Musikhochschule, where he succeeded Helmut Walcha. He was a guest professor from 1982 to 1991 at the Salzburg Mozarteum.
In 1993 he joined the Munich Musikhochschule. In recognition of his artistic and educational services, he was awarded the Frankfurt Music Prize, the E.T.A. Hoffmann Prize of the town of Bamberg as well as the Friedrich Baur Prize.
He is a member of the directorate of the Neue Bachgesellschaft Leipzig and the Bavarian Academy of Fine Arts.