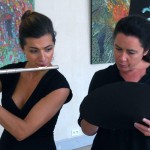 Leslie O'MEARA – painter
Born in Paris in 1971, holder of an Agregation and Doctor of Letters, Leslie O'MEARA gave up teaching literature and writing to devote himself entirely to painting, she practices since his teens. After concentrating her artistic work on the agricultural landscape of Beauce, then more widely on contemporary landscape, which she has consistently tried to be poetry, she turns now her pictorial research towards the inner landscape, and to a landscape less to do to feel with his heart and body.
Dimitria SEVASTOU – flute
After strong musical studies at the Conservatory of Athens and then to that of Paris, Dimitria SEVASTOU recorded, as soloist and orchestra, symphonies, operas, contemporary works, ancient music and chamber music.
She goes from jazz to ancient modes and contemporary facilities to sacred music, with artists such as Nicolas Mallarte, piano, Human Touch Trio.
During his travels through Europe and the United States, Dimitria Sevstou occurs with his flute in unusual places: ancient theaters, Parisian monuments, orthodox churches where usual instrumental music is not practiced…
In symbiosis with the painter Leslie O 'Meara, Dimitria Sevastou achieves this performance by linking disparate musical genres. Without feeling to innovate, she seeks to rethink the music, which she contains in herself the source of all art forms: music, dance, painting… DimitriaSevastouwasborninAthens,lives and works in Paris since 1995.