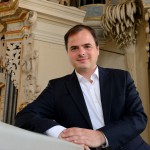 Born in Freiberg in 1980, David Franke started playing the piano at the age of 5. When he was 13 years old, he decided to dedicate himself to the organ. First he studied with Dietrich Wagler, appointed organist at Freiberg cathedral. In 2000, he obtained the Second Prize in the Germon national competition « Jugend Musiziert », as well as the First Prize and the Special Award of the Jury in improvisation.
In parallel, David Franke decided to diversify his studies at the Danish Royal Academy of Music in Copenhagen under the direction of Katrine Bryndorf and Sôren Christian Vestergaard. Several master-classes with Lorenzo Ghielmi, Hans-Ola Ericsson, Jean-Pierre Leguay, Pierre Pincemaille, David Briggs and others, have enriched his competences.
In 2007 David Franke has given concerts at the Bachfest in Freiberg, but also in other cathedrals such as Bremen, Brandenburg…
In 2008 he was awarded the « Grand prix d'improvisation » at the International Organ competition in Chartres.