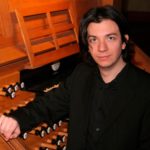 Daniel GOTTFRIED studied organ with Michael Gailit and composition with Christian Minkowitsch at Musik und Kunstuniversität Vienna where he graduated from with honors in 2015 and 2016 respectively.
Since 2015, Gottfried is titular organist of Vienna's Jesuit Church.
Since September 2016 he is pursuing thorough studies of French music as well as its tradition on the organ in the class of François Espinasse and Liesbeth Schlumberger at the Conservatoire National Supérieur de Musique in Lyon. He has participated in numerous master-classes of the world's best organists and has received important artistic advice from Louis Robilllard.
Daniel Gottfried has appeared in concert as a soloist at renowned organ festivals in France and Austria as well as in Italy and the UK. He is engaged in several chamber music projects and has been part of orchestra productions of, among others, the Orchestre National de Lyon.
Solo Recitals in the Auditorium National de Lyon and in Saint-Séverin church in Paris mark recent highlights of his active career as performer. This summer he will be organist in residence at the festival Chaise Dieu in Auvergne.