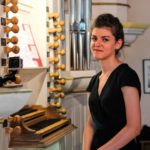 Barbara CORNET started the organ at Besançon conservatory of music with Bernard Coudurier and Pierre-Yves Fleury. She was later accepted at the Saint-Maur-des-fossés conservatory pursuing her studies with Éric Lebrun and obtained an organ diploma, whilst improving her knowledge in musical analysis, writing and accompaniment.
She regularly performs in various concerts and festivals (« Orgue en Ville » festival, « Bach en Combrailles » festival, Besançon, Paris, Fontainebleau…)
In 2018 she was awarded the young musician prize by the Deutsch-Franzözische Gesellschaft (French-German alliance) of Freiburg.
She is also organist of the historical Saint-Remi church organ in Maison-Alfort and is the founder of the « Saison musicale de l'église Saint-Remi ».
At the same time she is undertaking a bachelor's degree in management at the Paris-Dauphine University, with a flexible timetable that allows her to fully develop her musicianship.