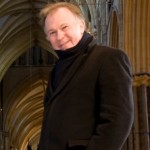 Colin Walsh is at the front of his generation of organists in England. He has played many recitals in England in cathedrals, abbeys, college chapels and two at the Royal Festival Hall.
Further afield, he has played in most European countries, Russia, New Zealand, Australia, Canada and the USA. During the summer of 2005 he was involved in the third performance of John Tavener's 'The veil of the Temple' as part of the Holland Festival in the Oude Kirk, Amsterdam and plays the organ for the Universal Label on a CD entitled 'The Choirboys'. In 2006 he toured New Zealand as European artist of the Organists' Congress and has recently given concerts in the Svetlanov Hall, Moscow, Cologne Cathedral and Notre-Dame de Paris.
His many recordings on the Priory label include two early recitals of modern French music from Salisbury, Vierne and Duruflé from St Albans and Vierne (second and third symphonies ; twenty-four pièces en style libre) from Lincoln. The restoration of the Lincoln organ in 1998 was accompanied by a CD of more popular music on the Cantoris label and a recording of French music on the Guild label was released in 2005. On the same label, a recording of the fifth and sixth symphonies of Widor was released in 2007, followed by a recording of organ music by Franck in 2008. He has recorded many times for the BBC. His teachers have included Simon Preston, Nicholas Danby and Jean Langlais.
His three year studies in France with Jean Langlais at St Clotilde inspired him to specialise in French symphonic and modern music, in particular the works of Franck, Vierne and Langlais. This has brought him wide acclaim throughout the world. In 1988 he played Messiaen in front of the composer himself.
His work as organist has always been connected with long established choral foundations : at St. George's Chapel, Windsor Castle and Christ Church Cathedral, Oxford ; at Salisbury Cathedral as Assistant Organist and at St. Albans and Lincoln Cathedrals as Organist. Since January 2003 he has been Organist Laureate of Lincoln Cathedral where he presides over the fine Father Willis organ and plays regularly for the Cathedral's services. He has served as a Council Member of the Royal College of Organists and has close associations with the Royal Academy of Music and the University of Cambridge. He is represented by PVA Management.
Colin Walsh was Organist and Master of the Choristers of Lincoln Cathedral between 1988 – 2002. At the beginning of 2003, the Dean & Chapter conferred on him the title of Organist Laureate. He has made 3 recordings with Guild records on the Father Willis organ : a collection of French music and recordings of Widor and Franck.