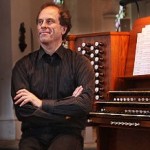 Mikael Wahlin (b. 1960) studied with Hans Fagius and Hans-Ola Ericsson at the School of Music and Musicology in Göteborg and with David Sanger in London. He received his Soloist Diploma in 1988.
Among his international competetion successes he has won First Prize for Interpretation at the St. Albans competition in England.
He gives recitals regularly in Sweden and abroad and teaches at the School of Music and Muscology in Göteborg and at the College of Music in Malmö.