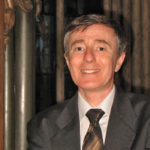 Organ professor at the Pôle supérieur (PSPBB) and at the Conservatoire régional de Paris, titular organist of the church of Saint-Séverin in Paris, Christophe Mantoux studied organ and improvisation with Gaston Litaize, as well as harmony and counterpoint at the CNSM of Paris. In 1984 he won the Grand Prix for interpretation at the Chartres International Organ Competition, following which he began an international career as a concert performer which has taken him regularly to Europe, the United States, Canada, South America, Russia, China, South Korea and Japan. The many authentic instruments from a wide variety of organ building traditions that he plays nourish his thinking as a performer and teacher.
From 1986 to 1992 he was titular organist at Chartres Cathedral alongside Patrick Delabre, and from 1992 to 2011 professor of organ at the Conservatoire de Strasbourg. He is a member of the Commission nationale des monuments historiques (section des orgues), and is also invited as a jury member for numerous international competitions and as a teacher for masterclasses.
His recordings have received critical acclaim.