Children's Chorus of Washington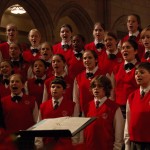 Internationally recognized and critically acclaimed for its nineteen-year history of outstanding artistry, the Children's Chorus of Washington (CCW) has reached five continents through domestic and international tours, recordings, and frequent appearances on public radio and television. CCW's highly-regarded music education programs engage and educate vocalists ages 6 to 18 regardless of background, financial resources, or prior experience. Emphasizing artistic excellence, responsibility, and personal development, CCW's approach fosters students' growth as young musicians and leaders.
CCW's mission is to provide the best choral music experience to young people in the nation's capital through exceptional educational programs, performance opportunities, and community partnerships. From CCW's beginning PREP Classes to our more advanced performing ensembles, students learn how to use their singing voice in a healthy and artistic manner, and are taught to read music through the Kodaly-based pedagogical approach. Choristers begin by learning to read and sing simple melodies and advance to reading and singing full musical phrases. They gain an understanding of many musical genres by singing choral music written by composers representing a range of styles and cultures.
The Chorus made its debut at the Kennedy Center in November 1996, and the next year, at the invitation of former Music Director Leonard Slatkin, performed the Washington and New York premieres of Gabriel Pierné's The Children's Crusade, with the National Symphony Orchestra, The Washington Chorus, and members of the Chevy Chase School Chorus at the Kennedy Center and Carnegie Hall. Since that time, CCW has grown to encompass five auditioned ensembles, comprised of more than 160 young singers representing over 90 public and private schools throughout metropolitan Washington, DC.
CCW performs frequently in self-produced concerts and at a variety of public and private engagements throughout greater Washington, DC. Recent performances include a concert at the White House for President Barack Obama and First Lady Michelle Obama, Mahler's Symphony No. 8 with Valery Gergiev and the Mariinsky Orchestra, Britten's War Requiem with Julian Wachner and The Washington Chorus, Richard Strauss' Der Rosenkavalier with Renée Fleming and the National Symphony Orchestra conducted by Christoph Eschenbach, and Made in America, part of the Kennedy Center's Voices of our Nation Festival with The Choral Arts Society, The Washington Chorus, and Great Noise Ensemble.
CCW also powerfully influences the evolution of youth choral repertoire through its history of commissions, including the Opera The Nightingale by Imant Raminsh, and works by Ysaye Barnwell, David Brunner, Stephen Hatfield, and Olli Kortekangas. CCW's most recent commission, Wonderful Day Out With Nature by Emmy Award-winning composer Nathan Wang, was premiered during CCW's China tour in 2013.
CCW recognizes the tremendous need for high-quality choral music education in metropolitan Washington and is committed to providing choral training to the broader DC community through SING DC, which offers vocal music training to students at Title 1 public schools at no cost to the students or schools, PREP Class which provides age-appropriate music education to first-time singers ages 6-9, and Teacher Workshops that offer professional development to local teachers who want to enhance the vocal ensembles in their schools. CCW offers scholarships so students who wish to participate in one of the performing ensembles are able to do so regardless of their family's financial resources.
Every other year, members of the Concert Chorus and Young Men's Ensemble tour internationally. In July 2002, the Chorus performed in the European Children's Chorus Festival in Vienna, Salzburg, and Prague. CCW participated in the Melodia! Children's Music Festival during its 2006 tour to Brazil and Argentina. On its first independent international tour to Italy in 2008, the choristers sang at St. Mark's Basilica in Venice and at St. Peter's Basilica in Rome among other spectacular venues. In 2010, CCW traveled to South Africa to perform in the Ihlombe South African Choral Festival. For CCW's 10-day tour to China in July 2013, in addition to the commissioned work by Nathan Wang, the choristers learned popular Chinese folk songs that they sang in Mandarin.
Children's Chorus of Washington has been selected as "one of the best small charities in the Washington, D.C. region" for 2010-2011 by the Catalogue for Philanthropy, a prestigious honour that recognizes high impact, carefully evaluated, and outstanding community-based non-profits in the area. CCW was recognized by the Washington Area Music Awards ("Wammies") – Best Choral Group – in 2012 and Greater Washington Area Choral Excellence Awards ("Ovations") – Best Educational Outreach in 2012 and again in 2014.
————
MUSYCA Children's Choir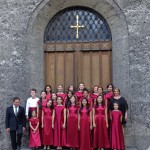 MUSYCA Children's Choir is a multi-level, sequential choral music education program for children and youth, guided by an exceptional faculty. Located in the San Fernando Valley of Los Angeles, MUSYCA brings together gifted young people, ages 4-18 to create a community of singers built on respect, love for music, and artistic excellence.
The mission of MUSYCA Children's Choir is to provide the highest quality of music education to Children and Youth of all religious, ethnic, cultural, and economic backgrounds through study and performance of outstanding choral repertoire. MUSYCA is dedicated to diversity, access, and service to community.
MUSYCA is California's leading performing arts organization for youth, which appeared at the world's top venues and collaborated with America's preeminent artists. Our performance at the 2014 Nickelodeon Kids Choice Awards has been seen in more than 375 million households worldwide, in more than 25 languages. Once-in -a-lifetime opportunities include international performance tour to France (Notre Dame de Paris concert), tour to New York (Carnegie Hall debut), and concert tour to Austria and Czech Republic. The choir collaborated with composers Alan Silvestri, Glen Ballard, recording artists Raury, Malay, Alpine Universe, Christopher Cross, Dave Koz, DJ Mustard, Fuego, Sia and Luke Christopher. MUSYCA singers starred in "Black Friday Orphans: The Musical" produced by Funny or Die and worked with the Center Theatre Group of Los Angeles.
MUSYCA is supported, in part, by the Los Angeles County Board of Supervisors through the Los Angeles County Arts Commission, the Los Angeles Department of Cultural Affairs, Pasadena Showcase House for the Arts, and individual patrons.