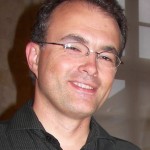 As a privileged pupil of famous organists such as Suzanne Chaisemartin, François-Henri Houbart and Marie-Claire Alain, Bruno Morin was awarded a Gold Medal and Price of Excellence at unanimity upon completion of his conservatoire studies. Two additional years at the Conservatoire National de Region with Marie-Claire Alain allowed him to widen his repertoire.
Winner of the Grand Prix of Interpretation of the International Organ Competition of Chartres at 25, Bruno Morin has been performing since in Europe, USA and South America.
Thanks to his wide musical education, Bruno Morin not only distinguishes himself in recital but also in his recordings from Boyvin, Lully, Bach or Haendel to Schumann, Brahms, Reubke, Widor, Vierne or Fleury. His recordings on legendary instruments such as Cavaille Colls in Saint-Sulpice in Paris, Saint-Sernin in Toulouse, Francois-Henri Cliquot in Poitiers cathedral as soloist or with orchestra gathered high praises from the press and audience around Europe.
Together with Marie-Claire Alain, Olivier Vernet and Frédéric Rivoal, Bruno Morin participated to the first recording of the Organ Concertos for 2, 3 and 4 keyboards of J. S. Bach. He has also recorded the Concerto for Organ and Orchestra of Francis Poulenc.
Winner of the Fondation pour la Vocation Marcel Bleustein-Blanchet and the Fondation Charles Oulmont, Bruno Morin is also involved in the organ patrimony preservation in the region of Seine-Maritime, France.