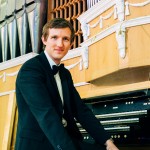 Born in Switzerland in the highly relative warmth of the month of February 1982, Benjamin Righetti studied the piano and the organ in a southerly direction, following the itinerary Neuchâtel – Lausanne – Geneva – Toulouse. Jean-François Antonioli, Yves Rechsteiner, François Delor, Jan Willem Jansen, Michel Bouvard and Philippe Lefebvre are the principal teachers who guided him towards the award of teaching and concert diplomas with the highest distinctions in these two instruments.
Between the ages of twenty and twenty-five he won a succession of prizes in six international organ competitions, one per year: the Concours Suisse de l'Orgue (2002), Bruges (2003), Tokyo-Musashino (2004), Freiberg (2005), Chartres (2006), and Paris (2007). In addition to these laurels gained among the world elite of his profession, he was also supported in his native country by the Fondation Irène Dénéréaz and the Pourcent Culturel Migros, and received the 'Mérite Boyard' prize of the municipality of Ollon (canton of Vaud).
A fervent advocate of a respectful approach to early repertoires, fascinated by the development of keyboard instruments, he also plays the fortepiano and the clavichord, as was the practice of organists in the eighteenth and nineteenth centuries. His questioning attitude to the future of the musical world has led him to participate in the creation of contemporary works, for example his recording of Jacques Charpentier's Pierres de lumière (DBA Productions, 2006) at the organ of Chartres Cathedral. More recently, his recording of the six Trio Sonatas of J. S. Bach on organs by the firm of Felsberg (K617, 2010) has been critically acclaimed for its richly colourful registration, its finesse and its sonic splendour.
He has already been invited to play many prestigious instruments, celebrating his twenty-fifth birthday in concert at Notre-Dame Cathedral in Paris, being selected to close the Bachfest 2007 on the wonderful Silbermann organ of Freiberg Cathedral, and accompanying Saint-Saëns's Third Symphony at a sell-out concert at the Amsterdam Concertgebouw in 2009 just before flying across the Atlantic to perform on the historic Walker and Schywen organs of Costa Rica.
Benjamin Righetti has recently moved to the old town in Berne, where he is resident organist of the French Church, is in charge of the organ of the city's Kultur-Casino, and holds a teaching post at the Berne University of the Arts / Department of Music (Church music – Bachelor – Master). In the summer he also dispenses pedagogical guidance at the Académie de Saessolsheim (Alsace), while in winter, if his concert schedule is empty for the moment, one is more likely to meet him on a snow-covered mountainside!