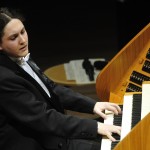 Balázs Szabó began his musical studies at the age of 15, graduated from the Franz Liszt Academy of Music in Budapest and went on to continue his studies in Germany, in Italy and the Netherlands.
In 2010 he received the master organist title from the University of Music Wuerzburg with the mentoring of Prof. Dr. Christoph Bossert, and also concluded the only existing International Master for Organ Experts in Rome and Trossingen.
Finally 2015 he received the Doctor of Philosophy in Musicology.
He won first Prizes at renowned international organ competitions : in St. Maurice (2007 Swiss), Biarritz (2009 France), The Internationale Orgelwoche Nürnberg ION (2011 Germany) ; and 2nd prizes in Chartres (2014 France), Wiesbaden (2009 Germany) and Heidelberg (2008 Germany).
In 2010 he received the City of Miskolc Standard of Excellence Award, the Junior Prima Prize, and in 2015 the Múzsa-Award.
Since 2011 he holds a teaching position at the Liszt Academy of Music in Budapest, and since 2013 also at the Béla Bartók conservatory.
Balázs Szabó concluded OrganExpert training in Rome and Trossingen, the world's only degree course for those who will consult church or national institutions as well as private people with organ projects (designing new organs and copies of historical instruments, supervising the maintenance, conservation and restoration of existing instruments)- presided over by the Vatican (Council of culture). He is one of the 5 graduated OrganExperts in the world.