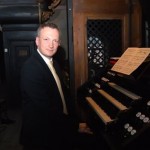 Arkadiusz BIALIC was born in Krakow/Poland in 1976. After complete studies of piano and organ, he graduates with honours in the two disciplines from the Frederic Chopin Music College in Krakow.
Then, he enters an organ class with Professor Jozef Serafin at the Krakow Music Academy, where he is awarded the 1rst organ price with honours.
Afterwards, he goes to Germany where he receives the organ prize in Freiburg. Afterwards, he studies at the Music Academy 'Hochschule für Musik und Darstellende Kunst' in Frankfurt/Main with Professor Daniel Roth in his soloist class.
Taking part in organ competitions in Poland and Switzerland he is awarded various prizes.
At the same time, he studies in various masterclasses, under the direction of Marie-Claire Alain, Olivier Latry, Jon Laukvik, Harald Vogel and Ludger Lohman.
As a soloist and chamber music player Arkadiusz Bialic is giving concerts in Germany, Poland, Slovakia and Switzerland.
In 2002 he is awarded the "Second Prix d'Interprétation" of the "Concours International d'orgue de Chartres".