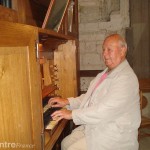 André Pagenel studied music at the Instituts for young blind in Paris, under André Marchal, Gaston Litaize, Antoine Reboulot and Jean Langlais. At the same time, he practised the piano with Vlado Perlemutter.
At 21, he got his teaching ability certificats, the Repertoire Prize Maurice Blazy and André Marchai and first prizes in piano, organ, composition, harmony and counterpoint of the I.N.J.A.
In 1958, he was winner at the International Competition Maria Canals of Barcelone (piano) and in 1959, at the International Competition of Geneva (organ). In 1963 he won the First Prize of Performance of the French Union for Sacred Music He is a soloist on Radio France.
After being the organist of the Holy Trinity Basilics of Cherbourg from 1958 to 1966, he has since been the organist of the Cathedral of Bourges.
He has also been organ master at the local Academy of Music since 1968.
He has performed at international Festivals Avignon, Valence, Torino, Toronto, Luxembourg, Salzburg, Frederiskborg, Lahti, Moscow and goes on tour in France and abroad giving many concerts : Germany, Austria, Italy, Turkey, Scandinavia, Russies, U.S.A.
He gives classes of interpretation in France, Germany, Switzerland, U.S.A. and participated in juries for organ competitions.
Artistic Director of the organ Festival «The very rich hours of the organ in Berry», he recorded a dozen records, cassettes and CDs…