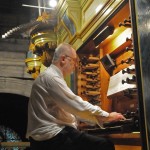 The musical studies of  Alain Mabit took place at the Rouen National Conservatory at the National School of Music Orsay, then at the National Conservatory of Music and Dance of Paris, with many teachers including Louis Thiry and Andrew Isoir (organ) Jacques Feuillie (analysis and composition), Jacques Petit (write), Max Pinchard (music history), Claude Ballif (analysis) and Olivier Messiaen (composition).
Holder of the first price of these disciplines, as well as musical training CA, winner of the international competition of organ composition of Saint Rémy de Provence, Alain Mabit was Musical Education teacher at the Conservatoire de Rouen and charge of the course on "changes in composition techniques from 1950 to 1970" the EBU Musicology from the University of Haute-Normandie until 1982. Appointed as harpsichordist-organist of the Ensemble instrumental Lower Normandy, where he remained until 1996, he also carries many arrangements and transcriptions some original music for partnerships with various theatrical structures.
Competitively recruited at the National Conservatory of Music and Dance in Paris, he taught from 1996 to 2005 Music Analysis, and has just been appointed professor of Scripture twentieth century. Organist, he was until 1998 the holder of the great organ of St. Éloi Temple of Rouen, and is now attached as a co-titular of the Cavaillé-Coll organ at the Abbey Saint-Étienne de Caen. He is, moreover, teacher, every summer, at the International Organ Academy of Saint Die.
He divides his time between composing, teaching, writing articles for various musicological journals, and the concert alone or training room.