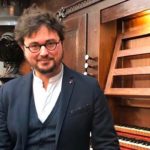 Yoann Tardivel is a concert organist and professor of organ at the Conservatoire à rayonnement régional de Toulouse.
Trained in Paris, Copenhagen and Brussels, his main teachers were Michel Bouvard, François Henri Houbart and Olivier Latry.It is with Bine K. Bryndorf that he deepens the Nordic repertoire of the seventeenth and eighteenth centuries and completes his itinerary with Bernard Foccroulle whom he will be the assistant at the Royal Conservatory of Brussels from 2010 to 2016.
His passion for the music of Olivier Messiaen led him to participate in 2008 in the International Competition of Toulouse with a program built around the "Livre d'orgue" and he won the 1st Prize. On this occasion he was elected "E.C.H.O. young organist of the year" for 2009.
As a soloist, he has already performed in some of the most representative places of the French organ and is also invited to international festivals in Europe. His recordings of works by Jehan Alain, César Franck and Camille Saint-Saëns (Éditions Hortus) have been unanimously acclaimed by the critics.
With the ensemble InAlto, he recorded "E vidi quattro stelle" by Bernard Foccroulle, on texts by Dante (Fuga Libera).
Music of the 20th and 21st centuries has a special place in his repertoire, and he regularly performs in festivals devoted to the music of today such as Klangspuren in Innsbruck (Austria), Ars Musica in Brussels (Belgium) or the Fabrique de l'orgue at Radio France, collaborating with composers such as Gilbert Amy, Pascal Dusapin, Bernard Foccroulle, Benoit Mernier, Yves Chauris, Vincent Paulet, Valery Aubertin, Thomas Lacôte or even Dai Fujikura who composed for him Water Path, created in 2016.
Producer and host on Musiq3-RTBF for 10 years, Yoann Tardivel has created, produced and hosted the program "Écoutez et plus si affinités", a weekly program of initiation and discovery of the great repertoire but also of less known works.
He taught until 2021 at ARTS², the Mons School of the Arts (Belgium), an establishment that combines music, speech and visual arts.