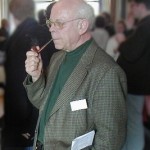 Per Kynne Frandsen is the organist and choir master at Frederiksborg Castle Chapel and caretaker of the historic Compenius Organ.
He trained at the Royal Academy of Music, Aarhus, and the Royal Academy of Music, Copenhagen. He has also studied musicology at Aarhus University. He studied in France with Gaston Litaize and André Isoir, and in Germany with Harald Vogel.
Per Kynne Frandsen frequently gives concerts and seminars in Scandinavia, Germany, France, Holland, Austria, Italy, Poland and Hungary.