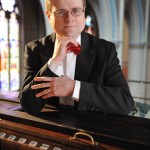 Pavel ČERNÝ was born in 1970 in Prague.
From the age of 5, he studied piano before turning resolutely to the organ at age 15 when he entered the Conservatory in his native town. While there, he obtained several prizes.
He then participated in masterclasses of wellknown masters, in his own country as well as in Germany. He also obtained distinguished awards in several international compétitions : FirstPrize and diploma in Improvisation at the Young Organist's Competition in OPAVA,1990 (Czech Republic) ; Grand Prize of the International Competition of Ljubljana (Slovenia) and the « Springtime in Prague » 1994 (Czech Republic).
Pavel ČERNÝ has performed in concert in the Czech Republic (notably with the famous Philharmonie and at the « Springtime in Prague »), as well as in Poland, Austria, Germany, France (Chartres 1995), Spain…
He has made several recordings for radio and television as well as a CD.