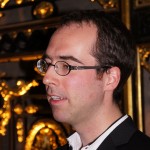 Paul Goussot is "titulaire" of the famous Dom Bedos organ at the medieval Abbey of St-Croix in Bordeaux. He recently won first prize for improvisation at the 26th International Organ Festival in Saint Albans, in the United Kingdom. Born in 1984 in Bordeaux, Paul Goussot's organ playing career took off at the age of 16, when he entered the Conservatoire National Supérieur de Musique de Paris where he first studied the harpsichord and basse-continue with Olivier Baumont and Blandine Rannou.
He began studying the organ in earnest with Michel Bouvard and Olivier Latry and received further tuition in harmony, counterpoint, fugue, improvisation and teaching skills from Jean Claude Reynaud, Jean-Baptiste Courtois, Thierry Escaich, Philippe Lefebvre and Jean-Francois Zygel. He graduated front the Conservatoire National and gained numerons first prizes, including two teaching diplomas that qualified him as professor of harpsichord and organ studies. Paul is a prize winner of various international organ competitions, namely at the "Musica Antica" festival in Bruges (Belgium), at St-Maurice (Switzerland) and in 2007 he won first prize for improvisation at an international organ festival in Luxembourg.
Both through his exceptional virtuoso and remarkable versatility, he has enjoyed a highly successful career as a young international concert organist. Highlights include several trips to the United States, notably New Orleans, Lafayette, Denton and Columbus. In 2009, as part of a joint programme between the Cathedral Basilica in New Orleans and the Paris Conservatoire, he was named "First Young Artist" in residence at the cathedral of saint Louis, in New Orleans. During that period he gave concerts in the state of Louisiane, culminating in a joint performance with the Louisiane Philharmonie Orchestra.
Paul Goussot's improvisational skill plays an essentiel role in his artistic pursuits. It is an art form that he applies with great dexterity to silent films, particularly Carl Dreyer 's 'Passion of Jeanne d'Arc', which received high acclaim in New Orleans. He enjoys improvising with other artists and has appeared with Olivier Latry in Notre Dame in 2010. A harpsichord professor at the Conservatoire in Chaville, and organ professor at the Conservatoire in Rueil-Malmaison, he teaches regularly with Louis Robilliard at the Academie of Granville, whilst conducting malter classes in the art of improvisation both in France and abroad.