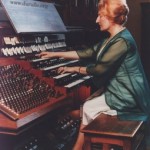 Marie-Madeleine Duruflé-Chevalier 1921–1999
An outstanding organist in her own right, Marie-Madeleine Duruflé-Chevalier's life and career were inseparably linked with those of her husband, the distinguished composer-organist Maurice Duruflé. Precociously musical as a child, she grew up in the South of France, studying at the Avignon Conservatoire, and becoming cathedral organist of Saint-Véran, Cavaillon at the amazingly early age of eleven. Not until after the Second World War and the German occupation were conditions suitable for her to continue her organ studies, with the legendary Marcel Dupré at the Paris Conservatoire, where she graduated with a premier prix.
In 1953 she married Maurice Duruflé, joining him as co-organist of Saint-Etienne-du-Mont, a magnificent Renaissance church in the Latin Quarter of Paris. Despite an almost twenty-year age gap between them and a marked difference in temperament – he morose and self-doubting, she a lively, outgoing personality – they nevertheless formed an excellent unanimous partnership. One also thinks of Yvonne Loriod and Olivier Messiaen, but, sadly, Madame Duruflé came too late to be her husband's compositional muse, his main output having been completed by 1947. But she did become a leading interpreter of his organ works, which they recorded jointly; and she played the important organ part in the celebrated recording of the Requiem for Erato which he himself conducted.
Undoubtedly, the chill cultural climate of the postwar years would have been extremely bleak for him without her revitalising presence; indeed, the latter part of their seemingly idyllic existence was clouded with misfortunes. For them both, the 1962 Vatican II 'reforms' were nothing short of a disaster, effectively undermining the Gregorian tradition from which they derived their defining source of musical inspiration. Worse still was an appalling motor accident in 1975, while returning from a recital in South-East France, in which he sustained two broken legs and she serious internal injuries. While this signalled the end of his active life, she recovered sufficiently to take over at Saint-Etienne-du-Mont, and act as nurse to her invalid husband.
After his death in June 1986, Madame Duruflé continued to live in the apartment in the historic Place du Panthéon; although restricted by her injuries, she remained characteristically outgoing, always ready to encourage the younger generation.