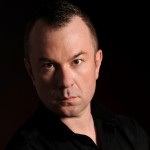 Olivier VERNET was born in Vichy in 1964. He discovered both the organ and his vocation as an organist at an early age. After obtaining his high school diploma, he went on to study under the direction of Gaston LITAIZE at the National Regional Conservatory at St-Maur-des-Fossés.
In four years of studies, he obtained five Gold Medals, a First Prize in organ "Excellence" (unanamous) and the concert artist diploma, with honours.
In October 1986, Olivier VERNET was admitted to the perfecting studies course of Marie-Claire ALAIN at the National Regional Conservatory at Rueil-Malmaison where he was awarded the First Prize in virtuosity (unanamous with congratulations from the jury) in June, 1987.
He obtained the Certificate of Aptitude as professor of organ in 1988 and in June 1990 was awarded the First Prize in organ at the National Superior Conservatory of Music in Paris in the class of Michel CHAPUIS.
Olivier VERNET has been awarded numerous distinctions : First Prize of honour, U.F.A.M. (Paris), 1984 ; First International Grand Prize of Bordeaux, 1991. Finally, Olivier VERNET was the 1992 winner of the Yehudi Menuhin Foundation after having been the winner of the Foundation of Vocation in 1989.
Organist at St-Louis in Vichy and at the cathedral of Monaco, professor of organ at the National Regional Conservatory in Tours, Olivier VERNET leads an active concert career as organist and accompanying pianist for his sister, the soprano Isabelle VERNET. Partner of Guy TOUVRON and regular guest at France-Musique Radio, he performs in France, Italy, Germany, Great Britain, Denmark, Czech Republic, USA, Japon…
His impressive list of recordings has already received several distinctions including the Diapason d'Or, the "shock" of the Monde de la Musique, etc …