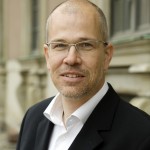 Mattias Wager was born in 1967 in Stockholm, Sweden. He studied Church Music and Organ at the Royal Conservatory in Stockholm, where he obtained his Performer's Diploma with distinction in organ interpretation and improvisation. His teachers were Torvald Torén (interpretation) and Anders Bondeman (improvisation).
In 1995, Mattias Wager won the International Interpretation Competition in St Albans, England, and in September of the same year, he won the Grand Prix d'improvisation "Pierre Cochereau" as well as the "Prix Maurice Duruflé" at the first International Organ Competition of the City of Paris.
In 1991, he won First prize in the International Organ Improvisation Competition in Strägnäs, Sweden, and obtained Finalist Prize in the International Organ Improvisation Competition in Haarlem, The Netherlands, in 1992 and 1994.
Mattias Wager gives concerts in all of Europe, and has made several record and radio recordings.
Since 1993, Mattias Wager has been teaching Organ Interpretation and Improvisation at the National College of Music in Piteå, Worth Sweden.