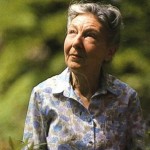 Born January 9, 1910 in Bastia (Corsica), daughter of General Henry Roget, Henriette Roget made all his musical studies at the Paris Conservatory, where she entered at the age of 9 years. She obtained in record time 6 first prizes between 1926 and 1930 in the classes of Isidore Philipp, Jean and Noël Gallon, Estyle, Maurice Emmanuel and Marcel Dupré : piano, harmony, music history, piano accompaniment, counterpoint, fugue , organ. She is also a student of Charles Tournemire she sometimes makes up for the organ of Sainte-Clotilde church. First Second Grand Prix de Rome in 1933, she was appointed the following year organist of the Oratory of the Louvre and the Great Synagogue of Paris. It will remain in the galleries until 1979 and 1952 respectively also Committed singing head of the Paris Opera, conducts parallel a brilliant pianist at Radio since 1935, where she remained until 1975.
Organist, vocal coach, pianist, Henriette Roget became Mrs. Ramon Puig-Vinals was more renown educator who taught coaching at the Paris Conservatoire from 1957. She even trained several generations of pianists in Japan where she had left teaching in 1979.
As a soloist, Henriette Puig-Roget is claimed by larger formations, including the Company's Concerts du Conservatoire, the Straram Concerts, Concerts Colonne, the Chicken Concerts, the Siohan Concerts, the Orchestre National de l'ORTF Concerts and Lisbon… From the fifties it recorded on discs, Pathé and Columbia, organ with Louis Martini and André Cluytens, Marc-Antoine Charpentier's works (Messe to 6 vote, the symphony is Assumpta Maria and the De Profundis), Nicolas Bernier (Contitebor tibi dominates), Michel-Richard Delalande (De Profundis), Jean-Baptiste Lully (Dies Irae), Camille Saint-Saëns (Symphony No. 3 in C minor, op. 78) and piano with Georges Tzipine : First Suite Cuba for eight wind instruments and piano, Alejandro Garcia Caturla and Ritmica 1, for wind quintet and piano, Amadeo Roldan.
His work is varied and covers piano pieces for orchestra, chamber music, vocal and religious. Of course the organ is well represented including a funeral procession (Durand, 1939) of para la semana santa Deploracion a Toccata and severa Triathlon which served contest piece for the Conservatory in 1977.
Defending Indy, Vierne, Pierné or Messiaen, she created the Preludes in 1930, she was an ambassador of French music and his death arrived November 24, 1992 in Paris VII gives all those who knew the memory of a great lady of the organ dedicated to his students.
Denis Havard de la Montagne
www.musimem.com
(With his permission)
Member of the Jury Grand Prix de Chartres 1984.